The Choctaw County Partnership is consistently ranked as having one of the very best public school systems in the state of Mississippi. Our school district offers Pre-K education, funded locally and not mandated by the state. The Choctaw County School District receives the highest rankings available from the Mississippi Department of Education with local elementary and high schools being rated the top in the state. High school students continually rate above the state average on ACT scores.
---
Here are more highlights of the education you can expect when you relocate to The Choctaw County Partnership:
One of the most compelling reasons to relocate to The Choctaw County Partnership is The E H Sumners Foundation , which assists all local high school graduates with tuition costs throughout college at the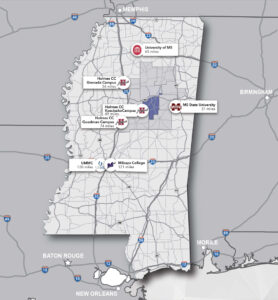 following institutions:
*Each university sets the GPA qualifications for receiving the funds
If you graduate from a local high school in the Attala, Carroll, Choctaw, Montgomery or Webster Counties, the Sumner Foundation will pay your tuition at one of the above colleges or universities. For families with high-school age children (or younger), this benefit can be a huge cost savings for higher education at some of the leading academic institutions in the nation.
Article: Sumners Grant pays out $118M
---
The Choctaw County School District has high performing public schools consistently being ranked the best in the state. Explore all our educational options in The Choctaw County Partnership:
---
The Choctaw County Partnership is close to some of the leading national research universities: